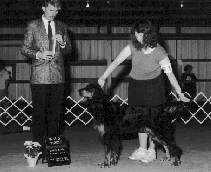 Amethyst's Choice o' a New Line -"Pepsi"
(CH. Kilernan Current Pursuit x CH. Kilernan's Spice o' My Life)
January 26, 1988 to 2000
AKC Number: SF328757
X-ray Cleared
Breeders: Peggy and Greg DaValt
Owners: Gregg Hutchison
Pepsi was our first-homebred bitch that did well for us in the show ring. She earned both her majors and other points for a total of 13 prior to being placed in a pet home with Greg and Carol Hutchison. She was loved by them for many years. Pepsi earned all her points from the bred-by exhibitor class.
Photo by Fox.