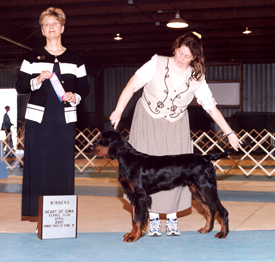 Hernwood Crystal Snowfall - "Blizzard"
(Roydack Snow Storm x Hernwood Crystal Dream)

Born: September 8, 2000
AKC Number: SN813118/01
Breeder: Peter Sandiford and Christine A. Sandiford, Hernwood (UK)
Owner: Peggy and Greg DaValt
Blizzard came to the US from our breeder friends, Peter and Christine Sandiford of England. We have enjoyed this young man. At the age of 7 months he has earned his first AKC show points. He is shown here with Mrs. Betty-Anne Stenmark. Watch for him as he matures!
Photo by Diane of Downey Photography.